CAKES
Showing 1–25 of 31 results
Please order at least 3 days in advance. We cannot process last minute orders for cakes.
All our cakes are frosted with buttercream frosting on the outside.
Choose flavor and filling options with your cakes.
If you need other size options please contact us through email: info@vannesscupcake.com
---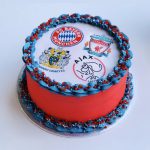 CLASSIC PHOTO CAKE
A fun two-layer cake with a printed image of choice! Upload your image (
or logo for a corporate cake!
) below. Please make sure your logo or image file name has your name (or company name) in it and in jpeg format. After successful upload, your image will be matched with your order name. Your uploaded image will be printed as is - we do not edit or redesign images. Please note that edible paper and inkt can sometimes affect coloring, so actual colors may vary. [wordpress_file_upload]
---
We find that servings are personal, so we only give an approximate servings per size cake: 10 cm for 2-4 people 15 cm for 8-12 people 20 cm for 16-24 people 25 cm for 32-48 people tall 15cm for 12-16 people
---
Our cakes can only be picked up or delivered in Amsterdam. Please order at least 3 days in advance. We cannot process last minute orders for cakes. 
€

27,50 –

€

85,00
VIEW OPTIONS