ROSE SWIRL Cupcakes (12)
Beautiful and delicious are these rose swirl cupcakes. Choose your cupcake flavor and color.
Please note that the frosting is vanilla or chocolate buttercream, depending on the color. And vegan frosting if you choose a vegan cupcake flavor.
If you need a color not listed here, please contact us.
Actual colors may vary.
Sold by the full dozen (12).
---
Allergenen:
GLUTEN
MELK
EIEREN
SOJA (vegan)
Related products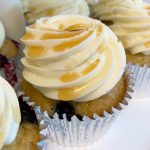 VEGAN BLUEBERRY MAPLE (12)
Vanilla cupcake baked with fresh blueberries, topped with maple frosting, fresh blueberries and a maple drizzle. Sold by the dozen (12).
---
Allergenen: GLUTEN SOJA
€

36,00
Add to basket