VEGAN OPTIONS
Showing all 22 results
Please be aware that our bakery isn't a diary free environment and we bake with dairy products and eggs every day. All of our vegan cupcakes are baked without any dairy or animal products but are baked in the same environment where these products are used and therefore we cannot guarantee that they won't contain traces of any of the above.
View basket
"MINI VEGAN Red Velvet (24)" has been added to your basket.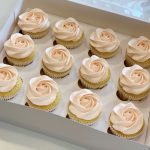 ROSE SWIRL Cupcakes (12)
Beautiful and delicious are these rose swirl cupcakes. Choose your cupcake flavor and color. Please note that the frosting is vanilla or chocolate buttercream, depending on the color. And vegan frosting if you choose a vegan cupcake flavor. If you need a color not listed here, please contact us. Actual colors may vary. Sold by the full dozen (12).
---
Allergenen: GLUTEN MELK EIEREN SOJA (vegan)
€

33,00
VIEW OPTIONS