Uncategorised
Showing 1–25 of 30 results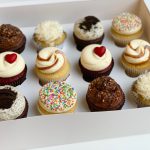 ~COUPON~ for 12 Cupcakes
We know these are strange and hard times! So therefore we offer you a special coupon - besides that we need your support, we want to help celebrate any parties after* these difficult times!
How does it work?
Buy a coupon now and use anytime this year.
The coupon is valid for 12 mixed* flavors cupcakes (standard or vegan)
*You can let us know your flavor preference, and we will try to accomodate as much as possible!.
Redeem the coupon by emailing us your ordernumber and pickup/delivery date (delivery fees will apply)
*the coupon can be used after the Coronavirus outbreak measures.
€

24,95
Add to basket